Diamante Blockchain Expands Global Partnership with CryptoWorldCon (CWC), the Largest Blockchain and Cryptocurrency Focused Conference
---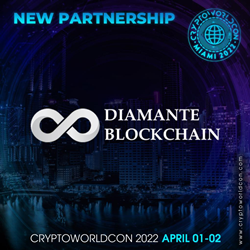 Iconic VIP guest speakers, Jordan Belfort of "The Wolf of Wall Street" fame, and Carmelo Milian, CEO and co-founder of Polka City, are expected to attend.

NEW YORK (WEB PR)
March 16, 2022
Global financial technology company, Diamante Blockchain, announces another media partnership with the world's largest event, CryptoWorldCon (CWC) Miami 2022. The big event is set to take place on April 1-2, 2022, at the renowned venue, James L Knight Center. It will have the presence of world-leading individuals and organizations, outstanding industry leaders, influencers and innovators from the crypto and blockchain communities.
CrytoWorldCon is one of the important return events after the COVID-19 outbreak, with more than 15,000 attendees from various walks of life. The 2-day conference aims to create global impact by converting Miami into the epicenter of the blockchain and cryptocurrency industries. The CWC focuses on cutting-edge industry trends with informative panel discussions, celebrity guest speakers, and provides a great networking opportunity that ultimately revolves around the blockchain and crypto space. It also covers a wide range of discussions on DeFi, CEFI, DEX, NFT, Metaverse, and other trending tech innovations in fintech and other industries, including mentorship sessions for attendees.
Iconic VIP guest speakers Jordan Belfort, The Wolf of Wall Street and Polka City CEO and Co-Founder Carmelo Milian are expected to be in attendance. The CWC will host a variety of startups seeking investors, strategic partners and advisors. The event also supports a local Southwest Florida-based nonprofit, Heroes Unmasked, which strives to help all sick children. The CWC will be the breakthrough platform that encompasses socio-economic advancements and potential adaptation in the world of blockchain and cryptocurrency.
The CWC will also host world-class international speakers such as Jaime Rogozinski, Priya Guliani. Indira Kempis Martinez, Kristina Lucrezia Cornèr, Lior Lamesh, Shiv Aggarwal, Adam Healy, etc. It will be hosted by award-winning master of ceremonies, Paul Gamache.
The CryptoWorldCon event offers almost every outstanding opportunity in the blockchain and cryptocurrency world. So to find out more about the event, go to http://www.cryptoworldcon.com.
About Diamante Blockchain:
Diamante Blockchain is a global, decentralized finance platform that successfully implements and grows a competitive blockchain-enabled ecosystem for commerce, payments, and finance. The company is co-founded by entrepreneurs Dinesh Patel and Chirag Jetani to make the Diamante ecosystem truly exciting for rapidly evolving technology and innovation. DeFi products and services facilitate real-time value in the Diamante ecosystem and instantly enable users to move assets.
The Diamante ecosystem consists of
(i) Proprietary blockchain network – Diamante Net

(ii) DIAM – The native digital asset of the Diamante ecosystem

(iii) DeFi Payment App – PayCircle

iv) NFT-Metaverse Platform
Related links:
https://diamondblockchain.com/

https://diamcircle.io/

https://paycircle.io/

DIAM Tokenomics
To stay up to date with the company's latest announcements, join their social hubs:

Facebook | Twitter | LinkedIn | Telegram | Discord | Reddit
For more information, you can also write to [email protected]
The company is recruiting for various positions in India. To learn more, visit https://diamondblockchain.com/careers/.

Share the article on social networks or by e-mail: