Larson reflects on 2nd chance offered by Philly racing school
---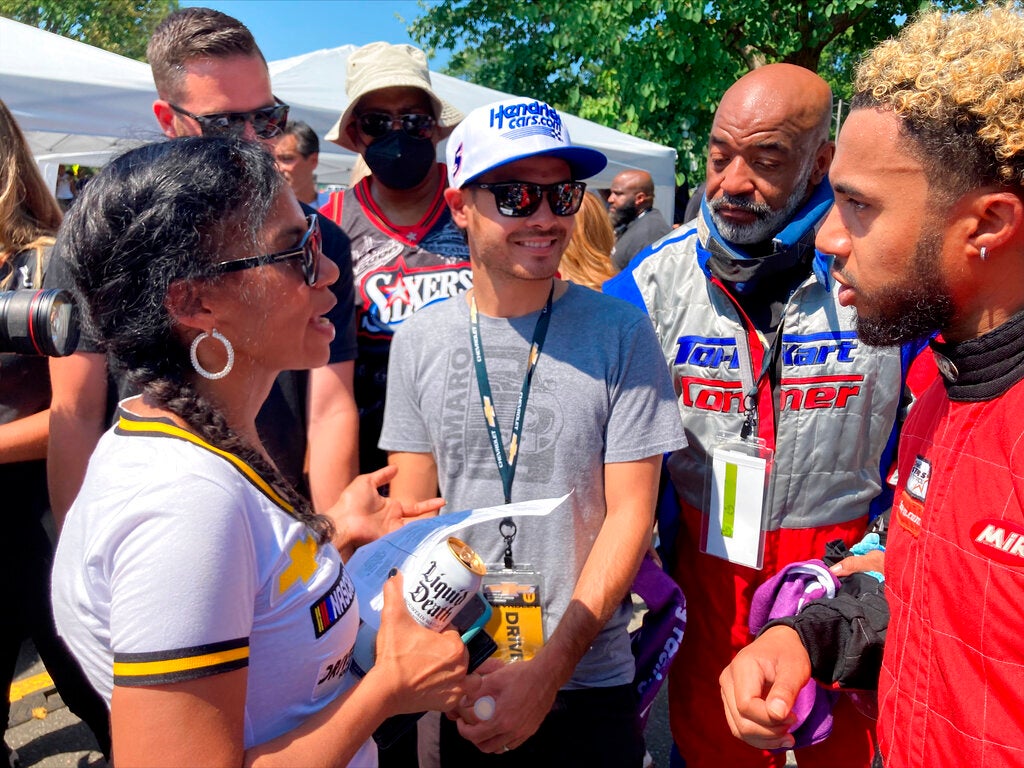 "I think NASCAR is working really hard to try to get to this point," Larson said. "There's no reason not to. I think events like this are where it starts. It's probably the first time that many people get behind the wheel of a go-kart. It should be a good intro.
The Urban Youth Racing School was started by Philadelphia native Anthony Martin, who left a career in sports marketing to pursue his love of racing and mix it with a dream of introducing inner-city kids to NASCAR. The school has served over 7,500 students aged 8 to 18 for almost 25 years and teaches all aspects of motor racing, including driving and black racing history.
Before making the short trip to Pocono, Larson had to repay the program supporting him in 2020 and offered him a very public second chance.
"I was able to give back and support them as well," Larson said.
Larson's redemptive path has put the school in the spotlight, fueling the UYSR with more determination for NASCAR graduate students.
"Look around, you got a lot of people of color here, and that's what the goal was," Martin said. "We wanted people to come here and see, here's the drivers, here's what they do, and see it for themselves."
One thing Larson doesn't have on his plate is time to dwell on his near miss last year at Pocono Raceway. Larson was about a mile from winning the race when a flat tire denied him a fourth straight Cup win.
Bowman won the race last June.
Larson picked up just one win last season, well past his smash 2021 season where he won 10 times. Larson has crew chief Cliff Daniels back from a four-race suspension after the No. 5 Chevrolet lost a wheel at Sonoma Raceway.
"Our car was fast," Larson said. "We need to improve on pit road and improve behind the wheel too, and hopefully we will be in contention more often."
POCO-NO-GO
This year marks the first time Pocono will not host two Cup events in the same season since 1982. Once a summer mainstay with two 500-mile races on the schedule, Pocono will run a single 400-mile sunday. Pocono moved a race to World Wide Technology Raceway, nestled just across the Mississippi River from Gateway Arch and downtown St. Louis.
Phelps said moving one of the races "wasn't lucky for Pocono", but the series simply embraced ambitious schedule changes – like its preseason race at a track inside the Los Angeles Coliseum. But Pocono wasn't necessarily leaving.
"I'm not suggesting they would go off schedule, I'm not suggesting anything," Phelps said. "But I think the opportunity to expose our races to a different market is important. I think we will continue to look to do that by following our schedule. is successful.
TRUCK CHAMPION
The Truck Series holds its regular season finale on Saturday. Zane Smith, John Hunter Nemechek, Chandler Smith, Stewart Friesen, Ben Rhodes, Ty Majeski, Christian Eckes and Carson Hocevar clinched places in the 10-driver field. Zane Smith needs just two points to clinch the regular season crown.
The Xfinity Series also runs Saturday at Pocono. Sage Karam is racing at Pocono for the first time since his involvement in a fatal 2015 IndyCar wreck at the track. Justin Wilson died from injuries sustained during the race.
TIPS
Kyle Busch, still in the running without a contract for next season, is a 7-1 favorite to win for the fifth time on Sunday at Pocono, according to FandDuel Sportsbook. Busch took an 8.654-second victory over Larson in the second race of the Pocono twinbill of last season. He led a total of 522 laps in 34 career Cup Series starts at Pocono and average track finish 15.1.