Philly will celebrate Selena with a tribute and a dance party
---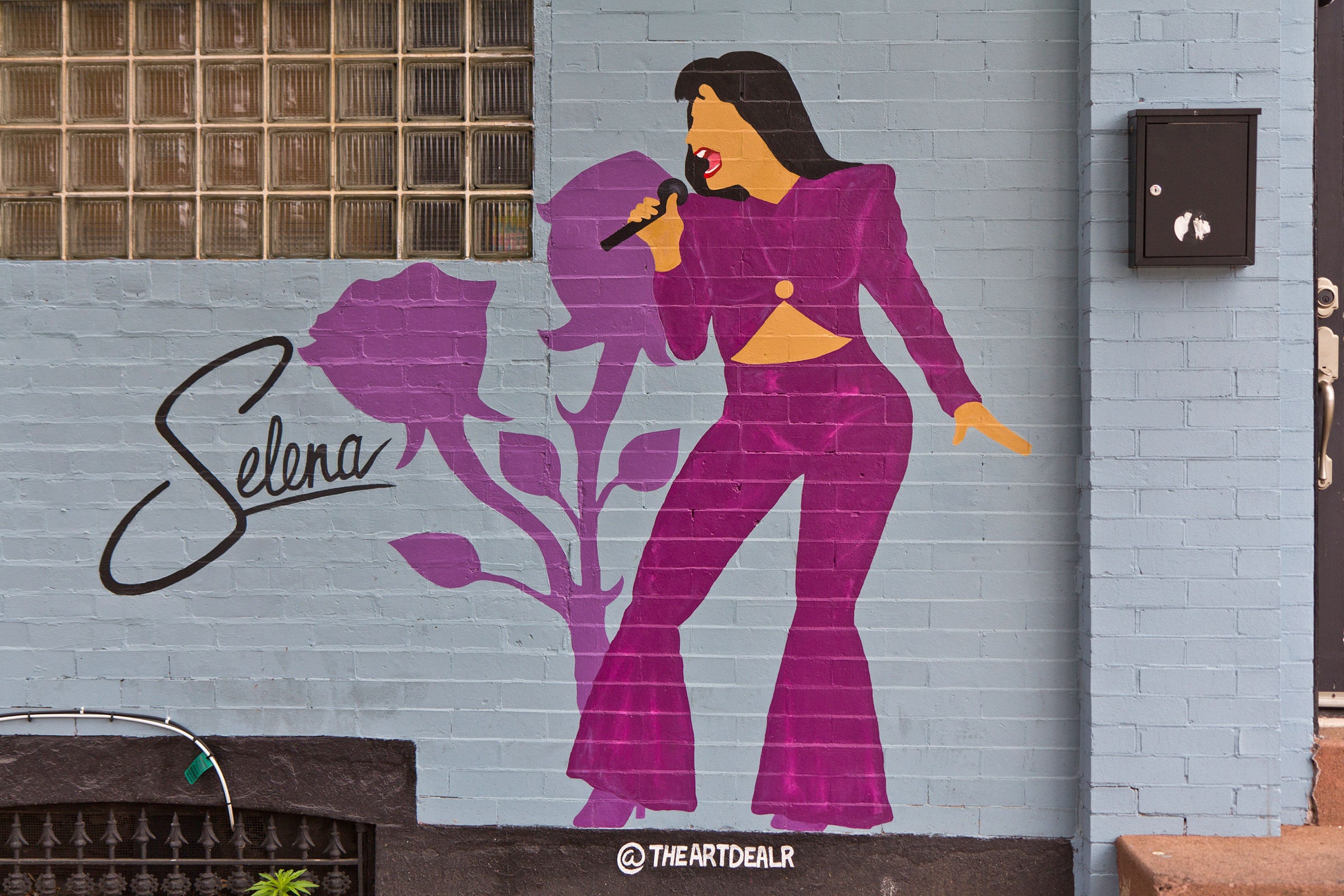 Commemorated in the Philadelphia cityscape
Growing up, the movie Selena captivated Taylor Phillips: the script, the music, the fashion. Each time she watched the movie, she hoped for a different ending, wishing that somehow this time would be different. While she can't change the past, Selena's story reminds Phillips that anyone can leave a legacy.
"No matter what happens physically, you can leave a mark on this world," said the 29-year-old muralist. "Your music, your art can live on, it's not about what's on this physical earth but what you can leave behind."
So when the owner of Tina's Tacos in Fishtown floated the idea of ​​doing a Selena-inspired mural in the front of his restaurant, Phillips knew she had to.
The mural often draws customers inside the Bob's Burgers-inspired restaurant, where they sometimes hear Selena performing in the background.
Symone Salib, another Philadelphia muralist, didn't grow up listening to Selena, but discovered her music in high school. Now 29, she cranks out "Dame Un Beso" whenever she's in her studio or making empanadas with friends because "it feels like home."
"Music is so beautiful because it can play this really important visceral feeling in the background of memories," said Salib, a Cuban-Egyptian artist and arts educator in Philadelphia. "I almost feel like she's part of the process, even though she doesn't know me.
Salib's work is generally community-focused, and often she makes art that represents her culture or parts of herself. In 2020, she started posting potential mural ideas on her Instagram to bring them to reality.
After spending a day in Selena watching the Netflix original series, two hours of interviews with her, her family and her killer, and ending with the titular 1997 film, she decided to make a wall mockup of the artist.
Although he hasn't adorned any building yet, Salib knows she will make it a reality one day.
"Forever Selena" is a labor of love
Selena meant a lot to Santero, who is hosting the dance party this weekend.
For him, it was about his music and also identity. As a Guatemalan Ch'orti' Mayan immigrant, seeing Selena mixing genres from pop to classic Mexican genres was affirming that.
"Just seeing someone be just her, like, unapologetically was so amazing and refreshing and inspiring to me," he said. "Probably has a lot of influence on why I still do what I do today."
"Forever Selena" events are hard work, but it's rewarding for Santero to see fans and creators come together in one place to honor one of their favorite singers and have fun.
"We do this out of love for Selena and for her music," Santero said, "and for the community she left behind."
The "Forever Selena" tribute and dance party takes place Friday, May 26 at Brooklyn Bowl Philadelphia, 1009 Canal St. Doors open at 6 p.m. and the show begins at 8 p.m. Tickets are $17 in advance and $20 at the door.