Wichita-Based 6th Man Strategies Reaches Deal To Represent Kansas' 18 Men's Basketball Players In NIL Efforts
---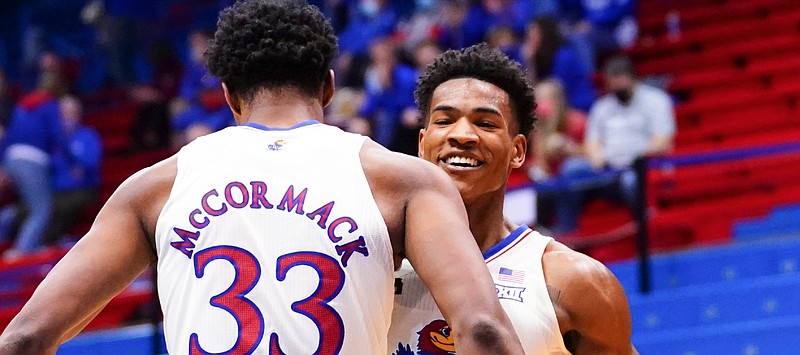 Wichita-based 6th Man Strategies, LLC has reached an agreement to represent Kansas' 18 male basketball players on their behalf, image and likeness, the company announced Friday morning.
A press release announcing the deal says the company also "intends to hire over 500 additional student-athletes in Kansas."
According to the release, 6th Man Strategies, a non-affiliate of Kansas Athletics, will help KU student-athletes manage areas such as personal branding, sales resources, public relations, tax strategy, legal and business advice.
The company has partnered with Opendorse, the leading compliance and monetization platform in the NIL marketplace, to streamline the student-athlete's NIL business.
"It's no secret that KU basketball players are some of the most marketable of all college sports," said Blake Lawrence, CEO of Opendorse. "It's exciting that 6th Man Strategies offers its representation to every student-athlete at KU, to help all athletes maximize their NIL opportunities.
The partnership between 6th Man, Opendorse and KU student-athletes will run in conjunction with the KU campus-based program known as Jayhawks Ascend, which provides support and guidance to KU student-athletes in these areas and several others.
According to the release, the Opendorse technology will allow 6th Man Strategies to seamlessly offer opportunities to student-athletes that will allow them to review, accept, complete and disclose all NIL activity from pitch to payment directly from within. their phone.
"Opendorse is dedicated to supporting Kansas athletes in this rapidly evolving NIL market with specially designed technology to help them capitalize on that moment and stay safe throughout the journey," added Lawrence.
Over the next week, 6th Man Strategies will announce a partnership with an officially licensed product provider that will serve both the brands these athletes have created and the institutional brand they represent.
"Brand strength Jayhawk is one of the most recognizable brands around the world," said Matt Baty, a former Kansas baseball player and Kansas Athletics employee who is now a partner of 6th Man Strategies. "For the first time, by partnering with an official supplier of licensed merchandise, we can formally unite the two brands and athletes can be compensated."
6th Man Strategies focuses on student-athlete programs in social media, player appearances, memorabilia, merchandise, NFT technologies, and corporate referrals. The company will also focus on programming allowing KU fans to engage with players through crowdfunding strategies, VIP events and various raffles.
"Kansas' athletes are important to our alumni, our university and our state." said Ryan Baty, former Kansas All-American baseball player and 6th Man Strategies partner. "It is vitally important that Kansas student-athletes are given NULL opportunities to improve their brand and marketing platforms to benefit them financially."